Watch this live recording of CRG's Assessment Systems Certification Workshop (now Professional Mastery & Assessments Certification, PMAC).
This is for any professional who wants to use the CRG assessments but also teach the numerous CRG Models and Theories.
A must-have resource for all individuals and organizations using any of CRG's family of tools and assessments.
Note: Available as DVD set or online stream format.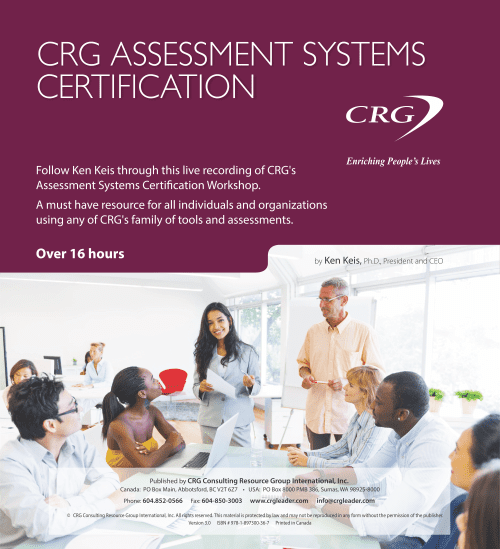 Over 16 hours in the Modules.
Expectations; Readiness & Willingness; Credibility
Approximate run-time: 1:25
Personal Style Indicator (PSI); Personality Development Factors; Facilitation of PSI; Style Corral
Approximate run-time: 1:55
CRG Support Tools; PSI Difference; PSI 360º; PSI Model
Approximate run time: 1:15
Developing Credibility Through Translating, Suspending, Style-Shifting
Approximate run-time: 35:00
PSI In-Depth Interpretations; Quick Style Indicator (QSI)
Approximate run-time: 1:05
Day One Overview;
PSI Origins Interview with Ken Keis, Ph.D. and Terry D. Anderson, Ph.D.
Approximate run-time: 50:00
Job Style Indicator (JSI); Sales Style Indicator (SSI); Style Communication
Approximate run-time: 2:00

Entrepreneurial Style and Success Indicator (ESSI); Learning Style Indicator (LSI); Instructional Style Indicator (ISI)
Approximate run-time: 1:00

CRG Support Resources; Questions and Answers with Participants; The Quest For Purpose
Approximate run-time: 50:00

Self-Worth Inventory (SWI); Stress Indicator and Health Planner (SIHP)
Approximate run-time: 1:55

Values Preference Indicator (VPI); KnowMe Game; Participant's Comments
Approximate run-time: 1:10

Leadership Skills Inventory -Self, LSI-360º
Approximate run-time: 1:00

PSI Case Studies, CRG Online Assessment System & Learning Center
Approximate run-time: 1:10

CRG Affiliate Program, CRG Licensed Associate Program, CRG Social Media
Approximate run-time: 50:00

Law of Attraction, Planning & Development Process, Participant Comments
Approximate run-time: 1:20

Bonus segment: PSI Origins with CRG Founder Dr. Terry Anderson
Approximate run-time: 55:00