Professional Mastery
&

Assessments Certification
Now Available VIRTUALLY!
Master Yourself! Transform Others!
Make a Positive Impact on Individuals, Teams & Leaders!
Are you a professional developer or leader who wants to make a Positive Impact on Individuals, Teams & Leaders?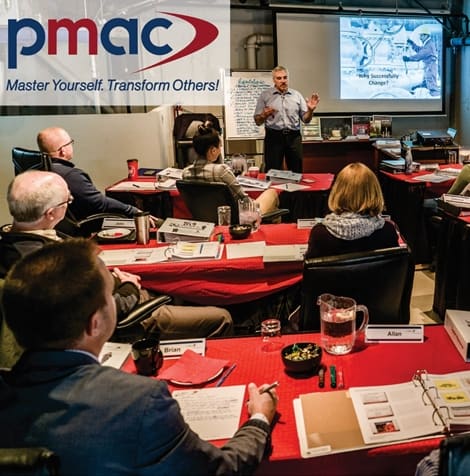 Why Attend?
Our ability to serve others is equal to or less than our own development. Not only will you learn about our breakthrough developmentally focused assessments – you will grow yourself.
PMAC recognized and awarded one of the top ten train-the-trainer workshops globally by HR.com

Our highly engaging and interactive Professional Mastery & Assessments Certification, program prepares you to successfully administer and interpret CRG's holistic assessments to develop individuals, teams, and leaders.
Seats Limited!
Includes $1200 worth of materials.
Ask us about our group or multiple attendee discounts.
Master Yourself. Transform Others
November 7, 8 and 9, 2023
Virtual –  Via Zoom
Time Virtual Session: Log on 8:15 AM PST until 6:15 PM PST each day
What do other have to say about PMAC?
PMAC Testimonial Highlights
Improve organizations by using personal style to enhance group dynamics, communications, and decision-making, reduce conflict and develop leadership potential.
Maximize team performance through building an understanding of differences between people and their diverse approaches to working together.
Enhance self-awareness to identify strengths, blind spots, and areas for individual, leadership, and career development.
Grow professionally by gaining a valuable credential and access to the world's most widely used personality assessment.
This interactive program prepares you to confidently begin using CRG's holistic assessments immediately with individuals and groups. During this experiential workshop, you will practice using your own results, learn team activities, coaching methods, and facilitation strategies. Participants leave the program with ready-to-use materials, personal insights, and new relationships.
CRG's PMAC is for internal and external professional developers. Attendees include, but are not limited to career developers, coaches, trainers, consultants, speakers, seminar companies, HR and organizational development professionals, educators, leaders, pastors, mentors, relationship counselors, wellness professionals, and many more.
CRG offers a professional referral fee. International publishers, national seminar companies, joint-venture marketing firms, network marketing groups, professional associations, not-for-profit organizations, and others also attend the CRG Certification to leverage our solutions for their constituents and their networks.
Qualifies for 30 hours of training for Generic CE Credits
Who is the Target Audience?
CRG resources are used with individuals age 15 (sometimes younger) and up—from middle school to the boardroom and everyone in between. For example, CRG resources are currently in use with at-risk youth to reintegrate them into society and in the executive suites of Fortune 500 companies.
CRG solutions apply, whether you are a frontline staff member or CEO of a multibillion-dollar organization. The range and flexibility of CRG resources make them the exclusive choice of organizations desiring a seamless and congruent message through their assessment practices.
Our assessments are available in several languages and actively use in over 35 countries.
Here's how we approach assessments.
CRG assessments teach people how to fish. We don't create a co-dependent relationship with participants. Many other assessments have little value without a debrief from a certified consultant.
Our assessments complement one another, thus enabling fast-tracked, holistic development.
CRG assessments yield results that make it easy for participants to act instantly, intentionally, and independently.
Participants don't want to take tests. They prefer communications tools that provide them with a path toward living, leading, and working on purpose. We provide the means for people to achieve their goals.
CRG redefines the stereotypical definition of extroversion and introversion and provides a new framework for describing behaviors and performance
There will be numerous breaks throughout the day to keep everyone refreshed and energized!
Learn how to assess individuals using CRG's Readiness and Willingness Model™ to understand why people succeed and fail.
Discover the one attribute all individuals must have to successfully interact with others.
Understand the core reasons why over 80% of professionals permanently switch to CRG resources from alternatives such as DiSC, MBTI, True Colors, and others.
Comprehend the distinct advantage of CRG's Personal Style Model™.
Understand why most definitions of Extroversion and Introversion are destructive to performance and how CRG has addressed many of the industry's and society's misconceptions on this topic.
Learn a quick method to determine a person's potential style pattern and enjoy an introduction to Why Aren't You More Like Me?™.
Apply CRG's steps to build credibility, translating, suspending, & style shifting.
Enjoy hands-on practice with CRG assessments and Personal Style models.
Ascertain how to increase staff and individual performance by using CRG's job-style compatibility system.
Appreciate how different Selling Styles affect buying behaviors and results and an introduction to Why Don't You Sell The Way That I Buy?™
Learn how to assess a person's entrepreneurial style and his or her entrepreneurial success factors compared to 4000 successful entrepreneurs.
Recognize the significance of understanding Instructional and Learning Styles and check out Why Don't You Teach The Way That I Learn?™.
Help others discover and live their purpose through CRG's Quest for Purpose discovery process.
Use CRG's exclusive situational self-worth model to confirm and improve self-worth levels.
Determine stress and wellness levels in five specific categories.
Learn a method to determine actual values versus perceived values.
Elevate your ability to give and receive feedback in a specially-designed activity.
Study CRG's comprehensive Transforming Leadership Model™ including CRG's Leadership Skills 360˚ assessment.
Discover proven methods and applications for implementing CRG's resources including practice case studies.
Learn about the powerful process and how to use the Team Values Indicator.
Find out about CRG's exceptional business and professional resources and how they can support you to achieve your goals and objectives.
Develop your perfect customer/employee/partner criteria list.
Determine how you can leverage CRG's intellectual content and program development to provide solutions for your constituents and clients.
Document your personal plan and implementation strategy to put into action that you can put into action immediately.
Receive feedback on your plan from colleagues in the field and use that live coaching to confirm, improve, and adjust your objectives and plans for your organization.
Developing the Whole Person is Critical to Long-Term Success
CRG created the Personality Development Factors Model as a framework to the holistic development of others. Over four decades ago, CRG recognized that no single measurement or assessment could or should capture the totality of any person.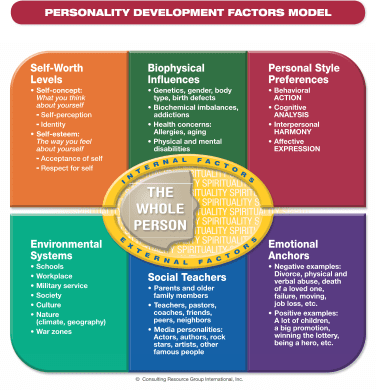 To address and honor the complexity of the human condition, CRG has produced and fine-tuned its proprietary assessment system over the past 40 years. The system provides individuals and professionals with a family of congruently designed solutions. We address the conflict, chaos, and confusion that occurs when professionals or individuals use resources from multiple sources.
CRG is best known for its breakthrough design for measuring style with our Personal Style Indicator but we realized we could not stop at the concept of style. CRG has created assessments to measure stress and health practices, self-worth levels, core values, entrepreneurial success factors, leadership skills, learning and instructional styles, sales, plus others.
We cover all these issues and more during the CRG's Professional Mastery & Assessments Certification workshop.
CRG – Equipping Our World to Live, Lead, and Work On Purpose!
Testimonials
"I soon realized there is more than one tool to use to accomplish your goals. The set of tools presented in the CRG Professional Mastery & Assessments Certification workshop is Awesome and so easy to understand."
Bev Asmann
Blueberry First Nations
Testimonials
"These are the most meaningful assessments I have had in my life. They help me improve my business potential and my personal life. I highly recommend attending the CRG Professional Mastery & Assessments Certification workshop to everyone—whether they already know or don't know about themselves."
Tommy Kwok
Terra Uber Investment Co. Limited
Hong Kong
Testimonials
"
Life changing is an understatement. My soul has been touched and I feel like I want to fly.
"
Allan Hutchison
Catholic Education Office
Ballarat, VI, Australia

Want to Host/Sponsor a CRG PMAC Workshop at your location or internally for your organization?
Do you offer group discounts?
Yes, we do offer a variety of discounts depending on group size. When more than one person attends from the same organization, a 25% discount applies to everyone after the first fully paid registration, so $1497. When five or more from one organization register at the same time, CRG provides a 50% discount for all registrants after the first fully paid registration, so $997. (For the over five package discount all attending participants must be paid for simultaneously but are permitted to attend different sessions.) Alumni who re-attend receive a great re-audit price of only $797.
Cancellation Policy
If you are unable to attend your scheduled workshop, you may assign your seat to someone else. If you cannot find another person to take your place, CRG will credit your account and reschedule you at the next available Certification session. If you cancel or postpone your attendance less than 30 days before the date of the event, you are automatically subject to a $200 materials recovery fee. No cash refunds are provided.
Do you have a Satisfaction Guarantee?
Yes. To qualify for a Satisfaction Guarantee refund (minus a $200 admin fee), you must have attended 100% of the PMAC workshop (all three days). You are then to communicate your desire for a refund prior to your departure at the end of Day 3. You will be required to leave behind all workshop materials, handouts, and books and you will not qualify for any Certification and/or licensed status with CRG. All your online assessments linked to certification will be deleted from your account. This satisfaction guarantee policy does not apply to in-service workshops.
Do you offer private or in-service workshops?
Yes. If you wish to host your own private and customized CRG Professional Mastery & Assessments Certification workshop, CRG will travel to your specified location. A package price of $20,000 USD is your investment. Conducted by our senior facilitator, the workshop includes $1200.00 worth of materials per participant for up to 20 attendees. All hosting facility costs, travel expenses and shipping costs for materials are not included and the responsibility of the hosting organization. While there is no limit to the size of your group, there is a materials fee for each attendee over the 20 attendees included in the package. Please call us for more details.
How can I pay?
Register online and use your credit card – Visa or Master Card. You can call the office at 604-852-0566 and we can process your card for you. If you wish to send a check we can get your mailing details. International money transfer is possible but all admin fees are charged to the participant. Contact the office if you need any further details info@crgleader.com.
What if I have more questions?
Contact us at 604-852-0566 or email us info@crgleader.com we be more than pleased to answer your questions.