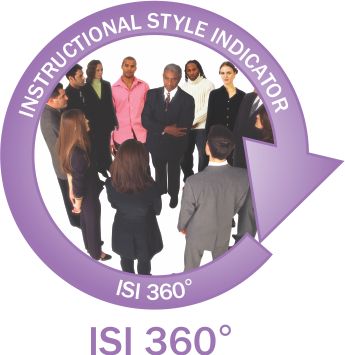 Instructional Style Indicator – 360º
The ISI 360º is a simple yet power process to capture how individuals experience Others. There are no right or wrong answers and what this method has does is documents the perceptions and opinions of those around you.
This assessment does not create the results, but rather confirms what is already true for each individual -providing a framework and system to understand self and others.
You can deploy for getting feedback for yourself or a third party. The system permits you to generate a report from just one response.
Volume Discounts Available
1-10 = $25 each
11-50 = $20 each
51-100 = $15 each
101+  = $10 each
Instructional Style Indicator 360º (SSI-360º)
The ISI 360º can assist you to do the following:
Increase the success of your participants and students!
Better understand the style tendencies of your students.
Shift your instructional style to meet the student's learning style needs.
Improve your instructional effectiveness immediately.
Increase your credibility with your learners.
Learn how to immediately implement instructional flexibility.
Develop a plan to increase your effectiveness in your interactions with your students.